Trail Details
The majority of the Rum Runners Trail is shared use (expect hikers, horses, and OHVs) with easy grades, and a hard-packed crusher dust trail bed ideal for hiking and hybrid cycling. The Chain of Lakes trail section leaving Halifax is paved and does NOT permit motorized vehicles.
Trail Etiquette:
Be courteous. Expect, and respect, other trail users. The trail is shared by everyone.
Respect private property.
Pack it in – Pack it out.
Keep right/pass left.
Slow down and give an audible warning before passing other users. Cyclist please ring a bell; or give a loud, friendly 'passing on your left' well in advance. Ride single file when passing.
Cyclists yield to hikers and horses.
Maximum speed is 20km/h for all users including bikes.  Use extra caution when and where the trail is busy.
Access to the trail is often controlled by gates and bollards (e.g. at road and driveway crossings).  OHVers, be aware that the width of openings can vary and be as narrow as 66″ in many locations as per provincial standards.
In the event of an emergency, call 911.
Mountain bikes and hybrid bikes are recommended, and rentals are available in Halifax or the South Shore.  Road bikes are not recommended.
In addition to cycling or driving to the trail, taxi and public transit bus services are available within Halifax Municipality.
Rum Runners Trail is accessible during every season, including winter, where it provides a snowy haven for cross country skiers, snowmobilers, snow‐shoers, and hikers.
Watch more Halifax and South Shore videos at novascotia.com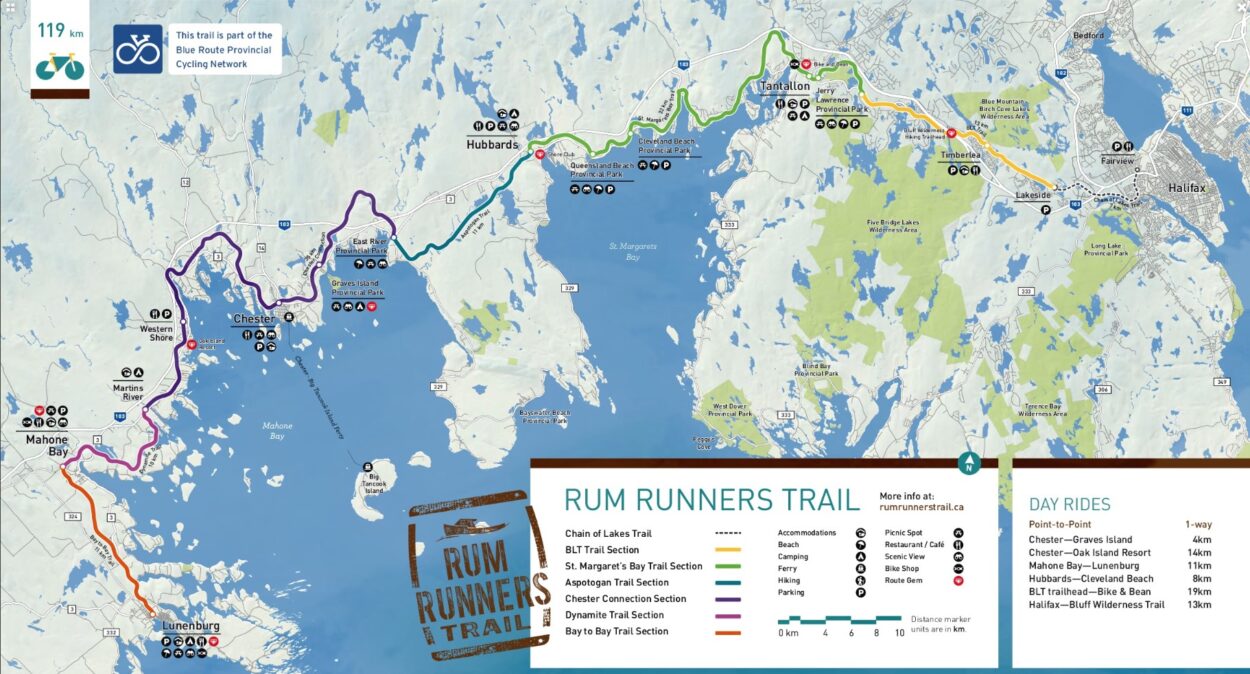 Visit CycleNovaScotia.ca to view and download a printable map, and to download a Ride with GPS gpx file.
Adventures in Rum Running
A taste of adventure envelops this trail! In the 1920s and 30s, many sailors in Nova Scotia did the unthinkable – they stopped fishing and became international smugglers. Transporting liquor into the United States during Prohibition sets the stage for the dramatic story of Rum Running to unfold.
Museums along the route showcase the lucrative and daring story of Nova Scotian rum running in the prohibition of the 1920s and 30s. Boats would pull into secluded harbours, islands and coves in this region and be easily concealed, while beaches and woods provided many discrete hiding places for liquor. Local rumours say many barrels were shipped on the railway along this very trail, almost 100 years ago. Thousands of gallons of alcohol from this area of Nova Scotia was resold along the eastern seaboard of the US. Rum running's demise came with the outbreak of World War II in 1939, and alcohol was more easily purchased in liquor stores around this time. For more on Rum Running, visit the Maritime Museum on the Halifax waterfront or the Fisheries Museum of the Atlantic on the Lunenburg waterfront.
For more information on the history of the rail line, stop into the Halifax & Southwestern Railway Museum in Lunenburg, displaying the history of the railway on the South Shore and local artifacts from the H&SW Railway; replicas of 1950s ticket office and passenger car; extensive model railroad (1/64 scale) with turntable, roundhouse, wharfs, depictions of various South Shore scenes. The Halifax and Southwestern Railway was affectionately called the Horribly Slow and Wobbly and it soon became part of the Canadian National Railway System.
About Us
Rum Runners Trail is a partnership of seven trails to develop and manage the 110km trail corridor collaboratively for the greater good of the community including the economic, health and social benefits. Collaborating since 2012, seven sections of rails-to-trails are linked to each other forming a continuous trail from Halifax to the Town of Lunenburg. Working together under the Rum Runners Trail umbrella, the six organizations manage seven sections of shared use trail. Each of the six trail organizations have permission through the Nova Scotia Department of Natural Resources or Halifax Regional Municipality to manage the rail trail within their respective communities.
Partners include:
Thank you for support of trails volunteers, ACOA, Tourism Nova Scotia, the Municipality of Chester, Municipality of the District of Lunenburg, Halifax and the Town of Lunenburg, the Province of Nova Scotia, NS Trails Federation, and Atlantic Canada Trails in advancing the Rum Runners Trail project.